All clear in the automation zone
Barrick's Hemlo Mine goes deep with teleremote and automation – teleremote autonomous mining is helping Barrick Gold Corporation reach a deeper section of its Hemlo mine in Canada. Running an Epiroc Scooptram ST14 loader from the surface enhances worker safety while reducing ventilation and climate control requirements underground.
Operator Wayne Locht trams his Scooptram ST14 loader to the automation zone, passing white Wi-Fi boxes mounted on the access walls. He stops short of the first "light curtain", a laseractuated barrier marking the zone's boundary. Crossing a light curtain will trip a shutdown of the level and alarm those at the surface.

Equipment at Hemlo is tagged to display its location in the mine with Mobilaris real-time tracking software. The same Mobilaris technology is planned for miners' hard hats by the end of 2018. Exiting the cab, Locht says: "We still personally walk the area to make sure no one is in the zone." Reassured the zone is clear, he takes an electronic "key" from a safety box near the light curtain. "This key gives the rig permission to enter. It connects the rig to the automation area so that the safety system knows that the rig is in the area." He inserts the key into a socket beneath his operator's seat. The red status light on the pole turns to flashing yellow. Locht may proceed to the second light curtain.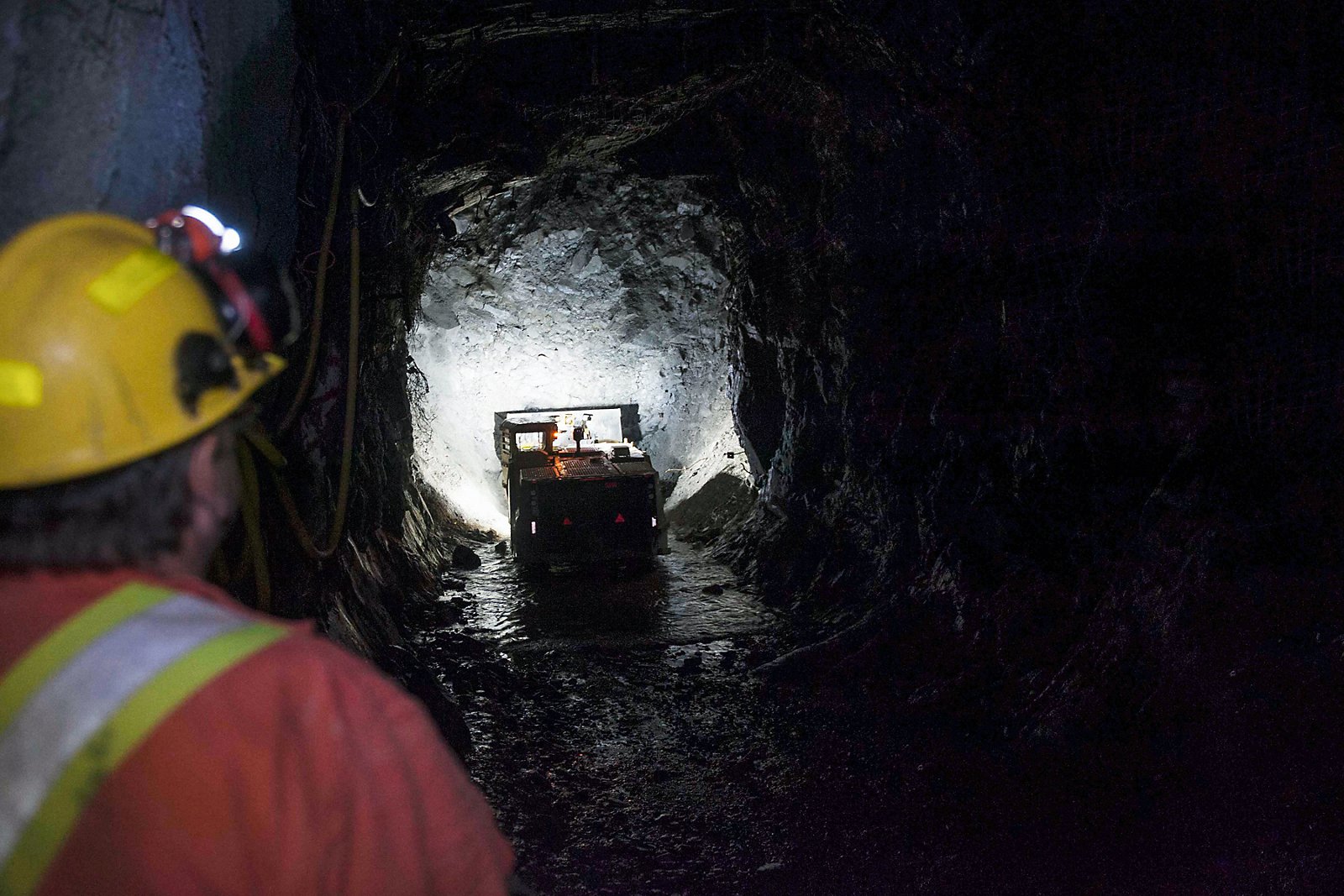 Parking the rig between the first laser barrier and the next, Locht sets the brake and flips a switch on the operator console from manual to remote control. He leaves the cabin a final time, removing the key from below the seat. Plugging it back into the safety box, it rearms the first light barrier and mutes the second. The level-status light turns green.

Locht radios the operator waiting at the control room operator station on the surface 1.4 kilometers above. The rig is now in his hands and Locht catches a 40-minute ride to the surface.

Autonomous tramming and teleremote operation are the most recent addition to an automation program at Barrick Gold Corporation's Hemlo openstoping operation near Marathon, Ontario, that began with an autonomous truck circuit in 2007. It is accelerating its automation program with a five-year plan after a year-long search for a solution offering the lowest cost, quickest implementation and solid product support.

"We studied all available technology. We had conferences with manufacturers and visited their facilities. We toured operations where their equipment was at work," says Patrick Marshall, Manager Automation Projects.

"We believe the Epiroc package featured the product support we wanted, had the best integration capability for our multivendor operation, had the right pricing model and, in general, was the best fit for our needs."
Barrick preferred to use Cisco for wireless infrastructure."Commonality is important to us," Marshall explains. "Epiroc's system is easily adaptable for use with third-party wireless systems."

For Hemlo, safety is the greatest benefit of the high-tech Scooptram ST14. Combining autonomous tramming with teleremote operation also increases productivity.

" Automation and tele remote control get workers away from the operating environment to an office on the surface ‒ the ultimate in safe operation," says Mine Superintendent Jon Laird. "And since it continuously mucks from stopes at a steady rate even through shift changes, it eliminates having to move operators to it every shift."

Laird says the 14-tonne-capacity Scooptram loader is "so efficient it threatens to outpace crushing operations at the ore pass." He smiles broadly when he adds: "Overproduction is a good problem to have."

One solution under discussion is creating additional ore passes to give one crushing operation time to clear ore between dumps. The Scooptram loader can easily learn multiple routes and alternate between them. Other systems Hemlo looked at took up to a full shift for the route-learning process.

Graham Hanson, Innovation and Technology Manager, who heads up teleremote operations at Hemlo, says, "This rig, you just run the route to learn it and it's ready to go."