Epiroc SB Hydraulic Breakers: 25 years of solid reliability
This year marks the 25th anniversary of the groundbreaking SB or "solid body" concept for hydraulic breakers and today SB Hydraulic Breakers are a popular range of tools in Epiroc's broad portfolio of hydraulic attachments. The slim, lightweight solid body design offers a number of advantages compared to conventional hydraulic breakers which, at the time, had already been around for some years. Outstanding durability and reliability, easier handling, lower fuel consumption and other benefits continue to make SB Hydraulic Breakers leaders in a competitive market.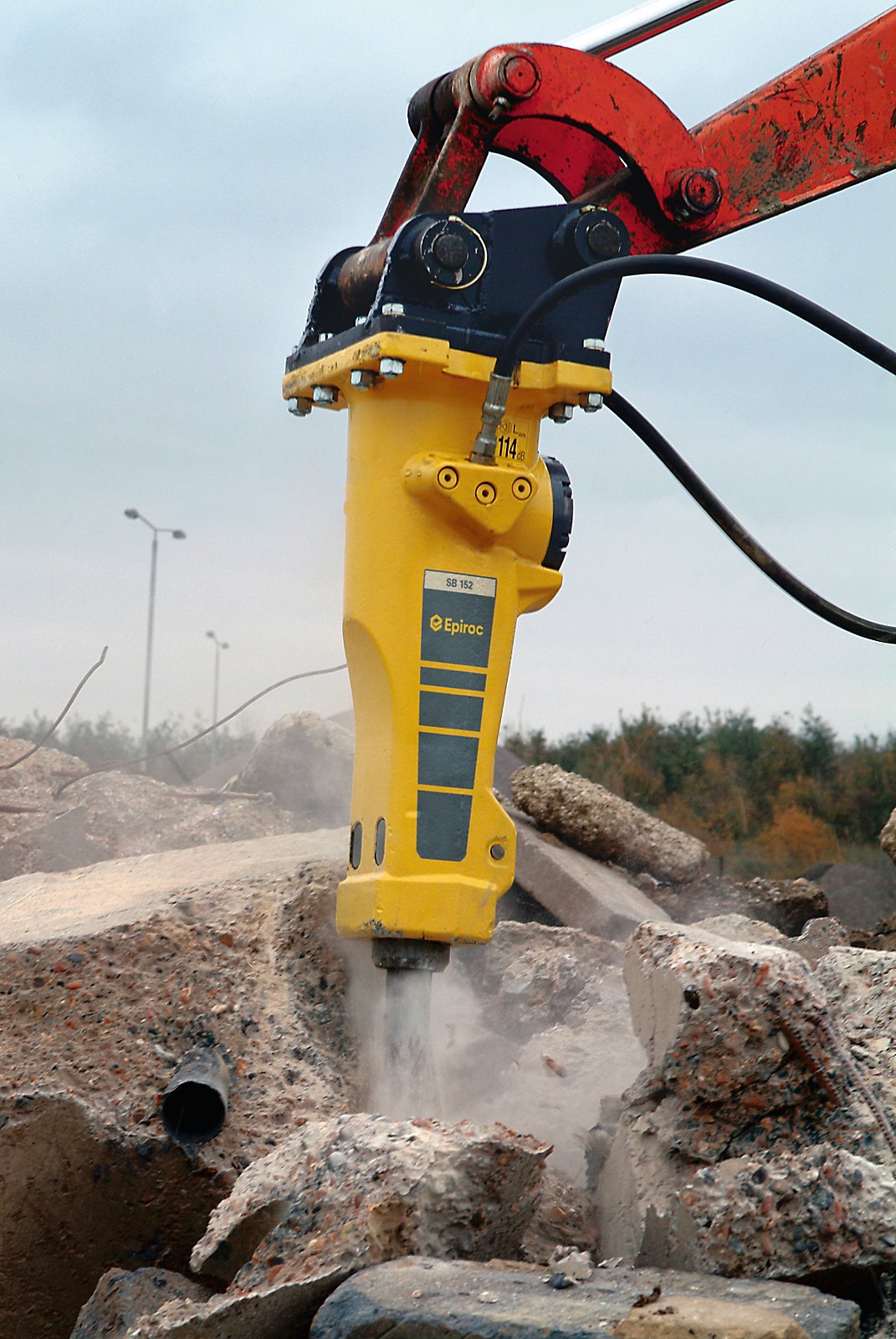 First introduced by Atlas Copco in 1993, the solid body concept utilizes a patented internal component design that integrates the percussion mechanism and the guide system into a single piece. This eliminates the weakest components of conventional breakers and gives SB breakers their outstanding durability.

Slimmer, lighter, fewer parts
Compared to conventional hydraulic breakers of the same size, the solid body concept gives a
slimmer, more compact design that allows better visibility and handling, particularly in confined spaces. Solid body breakers are also lighter, allowing a smaller excavator to be used for the same job, which in turn reduces carrier fuel consumption.

The fact that solid body breakers have fewer parts than conventional hydraulic breakers reduces maintenance requirements and enhances reliability. The attachments are designed for large diameter tools which also contributes to their reliability.

Solid partners for a variety of tasks
SB Hydraulic Breakers are a reliable choice for demolishing light concrete structures and asphalt pavements, both outdoors and indoors. They are suitable for performing earthworks, scaling in underground operations, cleaning ladles and converters in foundries, and other demanding tasks.

A complete range
SB breakers are manufactured in Epiroc's factory in Kalmar, Sweden. Designed for carriers in weight classes up to 24 t, they are available in nine models with service weights ranging from 55 kg to 1 060 kg. The range includes models to match any micro or mini excavator, backhoe, skid steer loader or demolition robot. Their outstanding durability makes them a popular choice for rental companies who can, with confidence, rent them to less experienced end-users.

Other features
Hydraulic breakers in the SB series are easy to set up and service; no special tools or adaptor fittings are required. Changing the working tools is simple, thanks to the patented tool locking system, and the floating fit lower bushing can be replaced by the operator on-site with standard hand tools.

Integrated Epiroc Energy Recovery technology increases productivity and reduces fuel consumption. Overload protection is provided by an integrated pressure relief valve. Also available are Auto Start, an air inlet for underwater applications, and Epiroc ContiLube™ II micro or ContiLube™ II automatic lubrication systems are optional on certain models.