Epiroc SB hydraulic breakers feature industry's only integrated water port for dust suppression
The water channel can assist with meeting the requirements of OSHA's final silica rule.
Epiroc AB, the subsidiary of Atlas Copco Group that is planned to be listed on the stock exchange in 2018, announces that its premium SB series hydraulic breaker attachments are the industry's only breakers to come standard with an internal water port for dust suppression, a feature that can assist in compliance with Occupational Safety and Health Administration (OSHA) final silica rule dust regulations.

With an integrated water channel, operators can spray water at the source of dust creation to keep dust levels down. This improves the working environment, enhances visibility and prevents dust from seeping into the bushings. SB breakers are also designed to protect operators and equipment by reducing noise and vibration.

Epiroc SB series breakers are designed for the 0.7- to 24-ton carrier class and are used in a wide range of applications that include demolition and renovation work, construction projects, tunneling, dredging and pile driving. Mining and quarrying applications range from overburden removal and scaling to primary, selective rock breaking.

SB series breakers combine superior efficiency and performance with high durability in a compact design. The range includes models to match any micro or mini excavator, backhoe, skid steer loader or demolition robot with service weights ranging from 120 pounds for the SB 52, the smallest breaker of the SB series, to 2,350 pounds for the SB 1102. Oil requirements range from just 3.2 gpm at 1,450 to 2,175 psi, to 35 gpm at 1,185 to 2,610 psi.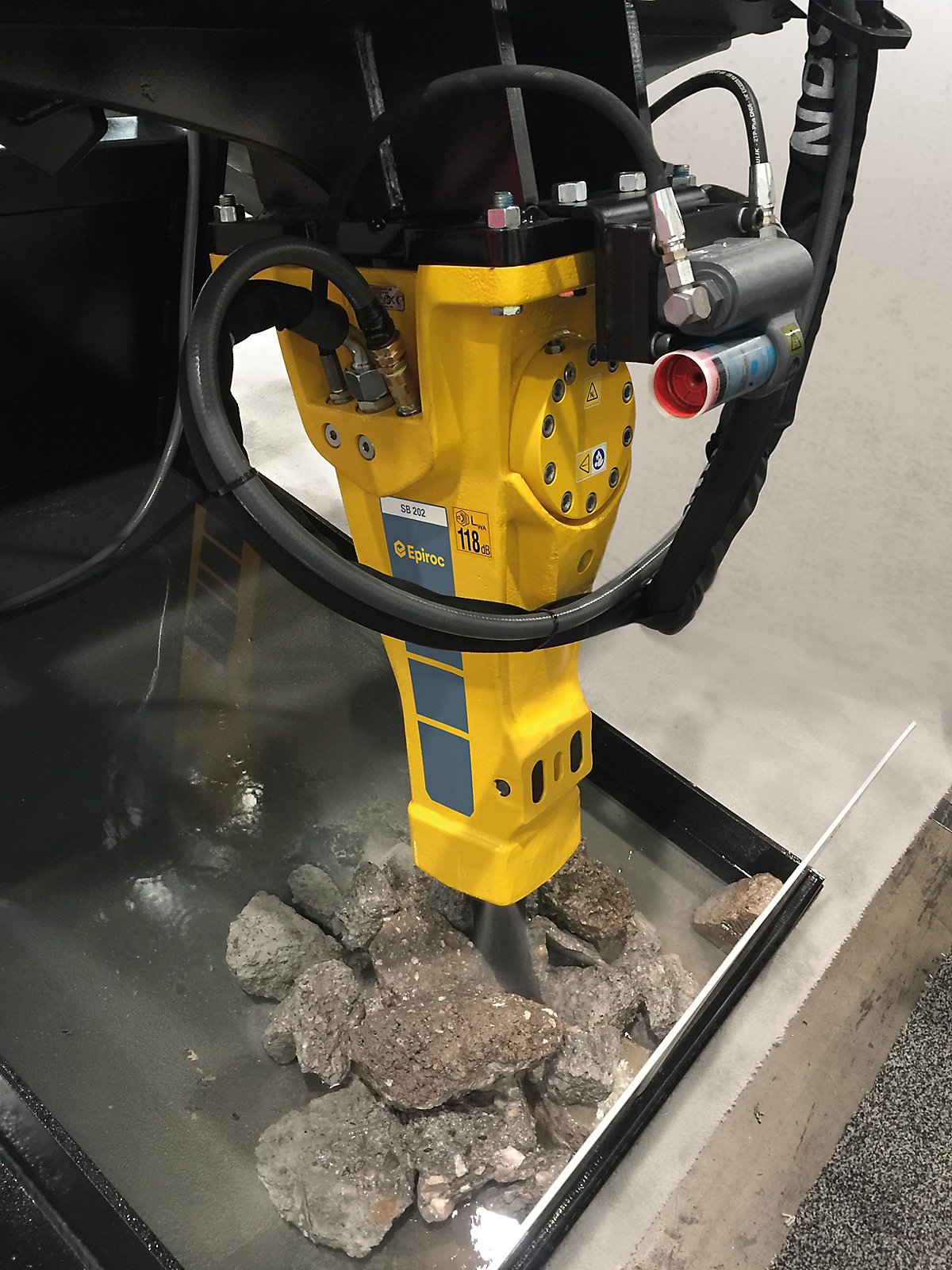 Epiroc EnergyRecovery technology absorbs recoil energy, mitigating anvil effect and increasing overall performance. The result is higher impact rate from the same hydraulic input with less vibration. The slim, compact design makes SB breakers easier to handle and improves operator visibility. All SB breakers come prepared for compressed air supplies. No modification or additional installations are required. The multifunctional design of the well-protected connection ports assures trouble-free operation, ease-of-service, and quick access. Side-positioned ports reduce risk to hoses and provide easy access for connecting compressor, water connection or ContiLube™ II micro lubrication supply lines or for monitoring operating pressure.
No special tools or adaptor fittings are required for servicing SB series breakers. The SB SolidBody concept utilizes a patented internal, integrated component design integrating the impact mechanism and the guide system into a single piece. This eliminates the weakest components of traditional breakers: damping and guiding elements, tie rods, parting lines and stud bolts.

The accumulator is cast into the body, further reducing the number of breaker parts and overall weight and maintenance. Gas pressure can be checked and adjusted in a matter of minutes. The supported diaphragm reduces strain and distortion, improving load distribution and service life.

Dual tool retainer pins optimize tool load distribution, require less grinding and protect against accidental damage to the tool and breaker.

Other standard features of SB breakers include integrated pressure relief valve for overload protection, Auto Start, air inlet for underwater applications, oil drainage plug, dust wiper, slip fit bushing and dual tool retainer bars for better support.

Epiroc ContiLube™ II or ContiLube™ II micro are options available for SB series hydraulic breakers.

In addition to hydraulic breakers, Epiroc offers an extensive line of hydraulic attachments including combi cutters, concrete busters, pulverizers, multi grapples, compactors, bucket crushers, hydro magnets, steel cutters, and drum cutters.
Atlas Copco announced in January 2017 that the Group will split into two companies in 2018: Atlas Copco, focusing on industrial customers, and Epiroc, focusing on mining, infrastructure and natural resources customers. Epiroc began operating as an independent business on Dec. 1, 2017, providing market-leading products and services to those industries. In the United States, the Epiroc organization started operating under the Epiroc name as of Dec. 1, 2017.
The Epiroc split with Atlas Copco is proceeding according to plan, but remains subject to approval by Atlas Copco shareholders in April 2018.
For more information, visit
www.epiroc.com
.
Press release from Epiroc USA LLC
For further information please contact:
Matt Cadnum, Vice President – Hydraulic Attachment Tools, U.S. and Canada.
(216) 643-6811;
rich.elliott@epiroc.com 
Troy Johnson, Media Communications, Performance Marketing
(515) 224-7408;
troyj@performancemarketing.com