Mendiger Basalt drives heavy machinery - Epiroc HB 7000 and HB 10000 are the undisputed top performers
September 2019 – The German company Mendiger Basalt has been a respected partner in the industry for years for high quality production of natural stones, gravel and chippings. Demands on the equipment are equally high, which is necessary for equally large-scale and sensitive jobs. However, since the introduction of the first Epiroc HB 7000 over seven years ago, loyalty to Epiroc's hydraulic hammers has come from experience and certainty.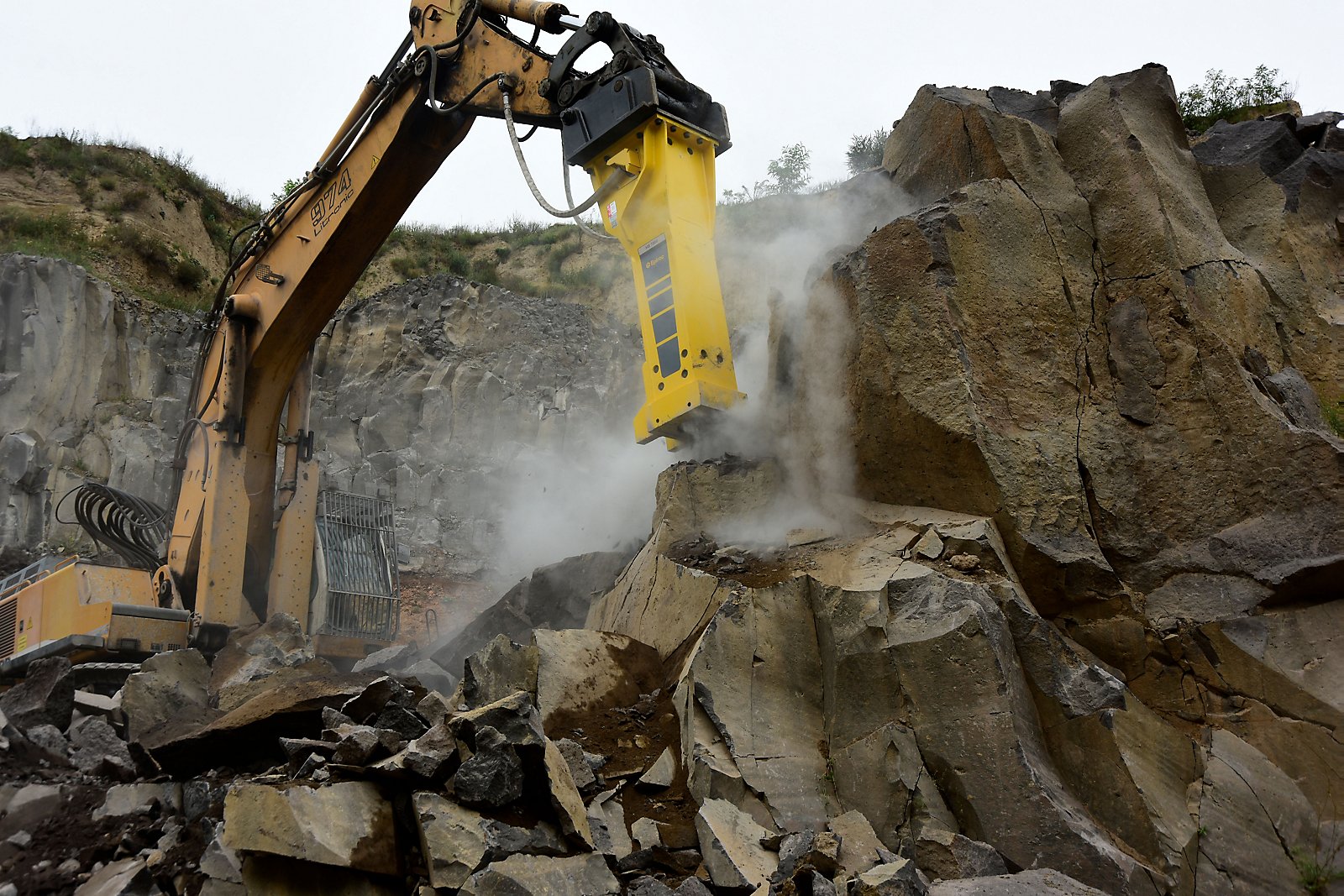 Epiroc - strong partner, valued quality, satisfied customers

The first HB 7000 was already being used in the quarry in the Eifel in 2012. In the meantime, six Epiroc hydraulic hammers are already an integral part of the machinery - including the first HB 10000, the world's largest series production hydraulic breaker.
Now, a new HB 7000 is currently being used at Mendiger Basalt - as a replacement investment for the hammer that was already in use at the time. It was presented by the A.B.T. Abbruchtechnik GmbH, which as a distribution partner of Epiroc can look back on many years of experience and in-depth know-how.
This results in a strong network for a close collaboration: With the brand new HB 7000, Epiroc delivers a quality product that wins over the managing directors of Mendiger Basalt above all with the improved lubricating system and the IPS system. A.B.T. provides technical advice and active support to make use of the hammer's high performance with maximum availability and cost-effectiveness.
Cutting-edge demolition tools replace conventional blasting operations

Mendiger Basalt has long been researching alternative stone recovery methods, because the use of explosives is complicated due to some areas being very sensitive to vibrations. Therefore, the company is also using hydraulic breakers for direct extraction alongside alternative explosives and a range of mechanical demolition equipment. This is the method used to extract basalt lava, basalt and tuff in the company's own five quarries. In the adjacent saw mill 50 employees not only produce ballast and high-grade chippings in various grades, but also high-quality sawn products. 0-2, 2-5, 5-8, 8-11 and for road construction 0-32 and 0-45.
The demolition of basalt - as an extremely hard volcanic rock - requires high performance, robust construction and absolute reliability. All the advantages that the HB 7000 can offer. In addition, its low maintenance and low vibration levels speak for themselves.
After many years of explosion-free demolition of hard stone, the responsible officer at Mendig has established that the total costs for using an Epiroc hydraulic breaker are not significantly higher than in a conventional blasting process. Managing Director Rainer Krings praised the benefit that the material can be processed in just one operation in a way that it is compatible with the work in progress. "In addition, we do not lose any time due to safety precautions and cordoned-off zones which are required when working with explosives."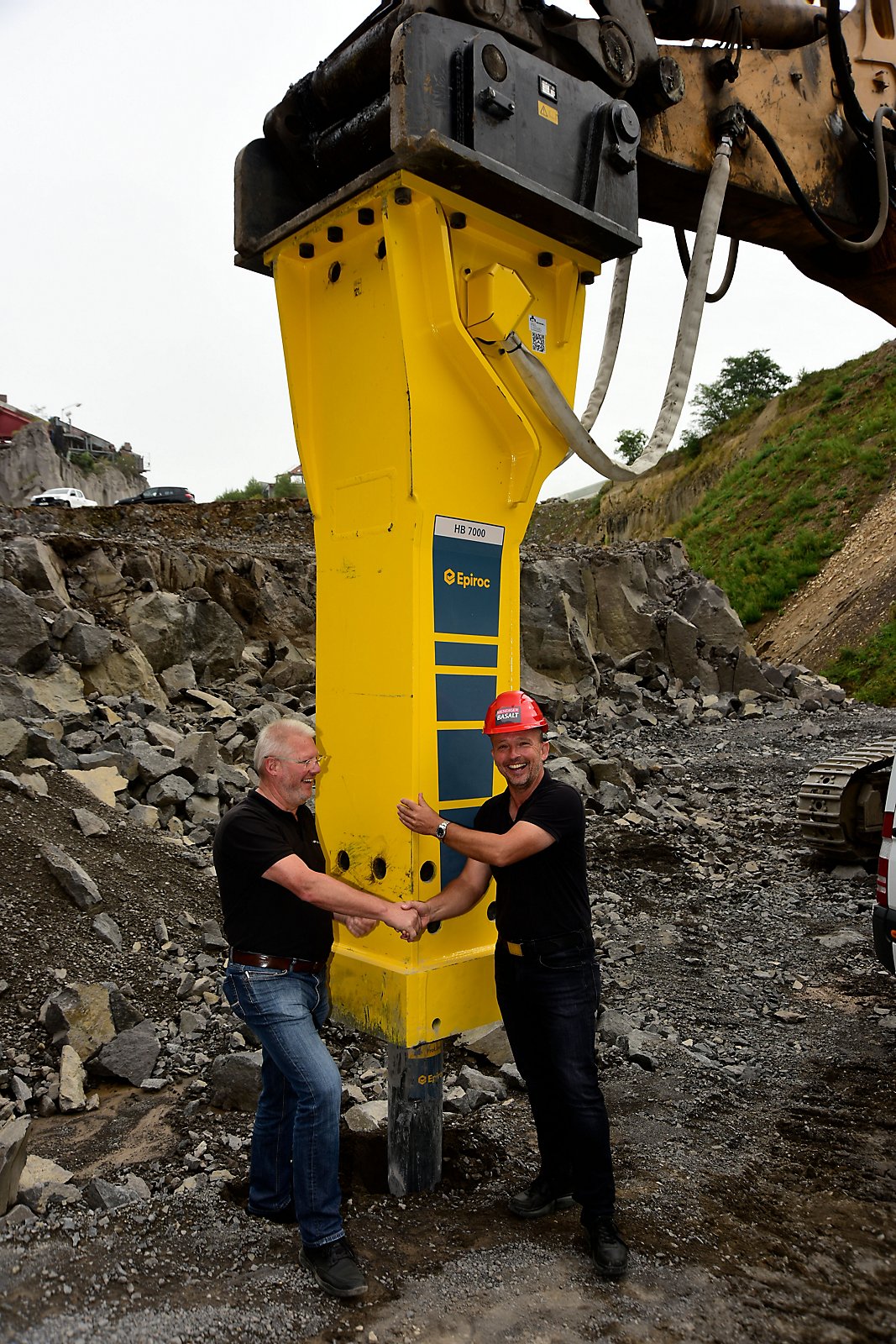 Whether HB 7000 or HB 10000 - quality and performance prevail

"I'm very impressed", summed up Rainer Krings after the delivery of the new hydraulic hammer. "The latest innovations on the HB 7000 are already impressive: the double lubricating system and the IPS system represent a significant improvement of the device."
Even the previous model was undoubtedly one of the top performers in the quarry of Mendiger Basalt. But Epiroc also wins its existing customers over time and time again with future-oriented optimisations and modern features. "We currently have six Epiroc auxiliary products: HB 10000, HB 7000, the HB 2000 we have used twice, in addition a MB 1650 and an older model. In this respect, we completely rely on the Epiroc brand," explains Managing Director Krings.
Since January 2016, Mendiger Basalt has also been using the world's largest series hydraulic breaker, the HB 10000, in gravel extraction - and thanks to its high levels of efficiency and performance has come to value it highly as a commercial alternative to blasting. For most of the work, the impact force of the HB 7000 is sufficient, according to Krings, "but we discovered that there are always areas that are particularly firm and compact and that are more arduous to loosen. The HB 10000 is very impressive here with its approximately 30% higher hitting energy, which has enabled us to also commercially develop more difficult extraction areas."
In general, the two largest hydraulic hammers are used in parallel and together they create service times of approx. 2,000 operating hours per year - low maintenance, efficient and reliable.