EPIROC ARRIVES! The 1st Epiroc Flexiroc D55 has been delivered to EPC-UK.
Following Epiroc's separation from the Atlas Copco Group, the 1st Epiroc Flexiroc D55 has been delivered to EPC-UK.
This is the first drilling rig to carry Epiroc's new company logo and was received by EPC-UK.

Epiroc was part of the Atlas Copco Group until June 2018 and continues to deliver the same quality productive, innovative rig design. They are valued by the owners and operators in their efforts to continually improve efficiency as well as the rig being user friendly and safe for the operator.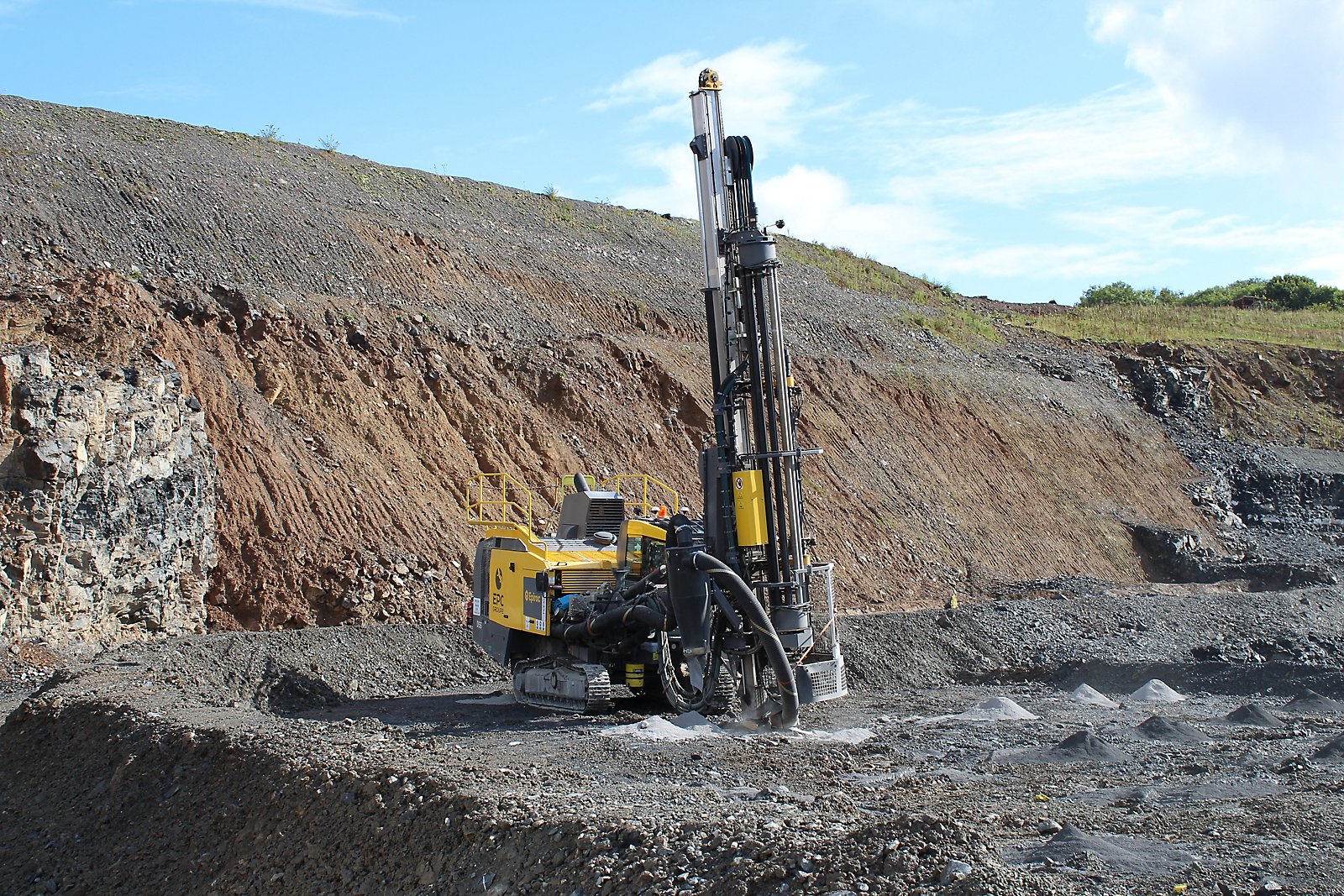 EPC-UK has operated in the UK since 1905 and their services activity is a specialist contractor within the drilling and blasting sector. The FlexiROC D55 will join their existing fleet,, most of which are Atlas Copco machines. As a supplier for EPC-UK, Epiroc has worked in partnership for a number of years and delivered a fleet of rigs that are commissioned, serviced and maintained to achieve a 98% productivity rate for EPC-UK across their fleet.

Through careful research and previous experience with the FlexiROC D55 it was the obvious choice when replacing other rigs in their fleet, as they have proved to be extremely effective in meeting EPC-UK's expectations.

Steve Courtney (Lead Driller) has been drilling with EPC-UK for over 20 years and has seen the developments from the Atlas Copco AirROC 404, ROC 460, ROCL6 and ROC L8 right up to the current FlexiROC D55.

"They are undoubtedly one of the best rigs on the market and the reliability is second to none. Hole accuracy is excellent, wherever the drill rig is positioned, the holes will always be in the right direction thanks to the innovative Hole Navigation System. By delivering 30 bar we achieve a 20% faster penetration, compared to the older 25 bar rigs. Another development is the fuel tank size that gives 14 hours of drilling capacity allowing us to work a full 10 hour shift without the need to stop for refuelling.

The rig's weight and dimensions also allow us to deliver to site without the use of a large low loader which means we have removed a requirement for a notifiable load application. A machine that is easily transportable between sites is a definite benefit for any contractor.

I have seen big changes for driller comfort and ease of use over 20 years, air-conditioning, blinds, reclining/adjustable seats, heating, a radio, and external noise is kept to a minimum in the spacious cab for the operators. The in-cab vacuum cleaners also help to reduce silica dust exposure."
Working in the extractives industry can be hazardous and operational health and safety has long been considered central to every aspect of EPC-UK's daily operations.

To reinforce this EPC-UK have fitted 360-degree cameras to all new EPC-UK FlexiROC rigs, allowing the operator to view from a screen in the cab any potential risks/hazards to the driller's environment. A further safety feature is the inclusion of powerful LED lights permitting safer drilling during the winter months.

"We perform modern blasting procedures with meticulous skill and expertise and place considerable focus on our customers' specific requirements. To consistently achieve our exacting standards, we only invest in the most suitable, efficient equipment."

Ian Davies, General Manager Explosives & Blasting, EPC-UK

The Epiroc Flexiroc D55 and service provision continues to play a significant role in EPC's growing fleet, in order to support them as a productive contractor that is an established and respected part of the quarrying and mining sector.
Press release from Epiroc UK & Ireland Limited
For further information please contact:
Lucy Welsby – Communications Manager
lucy.welsby@epiroc.com
+44 (0) 7971 650465 or +44 (0) 442 222367

epirocgroup.com/en
epiroc.com/en-uk
epiroc.com/en-ie

Epiroc is a leading productivity partner for the mining, infrastructure and natural resources industries. With cutting-edge technology, Epiroc develops and produces innovative drill rigs, rock excavation and construction equipment, and provides world-class service and consumables. The company was founded in Stockholm, Sweden, and has passionate people supporting and collaborating with customers in more than 150 countries.